2000.10.27-11.5
tokyo contemporary design exhibition HAPPENING2000/2001に出展しました。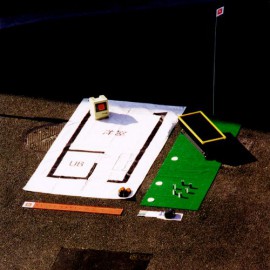 HAPPENINGとは?
デザイナーが自らの作品を発表するための環境として、現在進行形の刺激的なデザインを感じる場としてスタートしたイベント。
作品が展示されるのは原宿や青山、代官山などのショップやカフェのお店の中。街を歩き、作品のポラロイドを撮り、カタログに貼って、自分だけの作品集を完成させる。
What's HAPPENING?
Interior and furniture designers from England, Germany, Holland, Italy, France, and Japan will be showing their work from October 27 to November 5, 2000. This exhibition will take place at twenty-nine locations around the Harajuku / Aoyama / Shibuya / Daikanyama area.
There will be a Polaroid camera set up at each space. You will be able to participate in the HAPPENING, by taking your own photos to paste in, and complete, your own catalog.
This catalog is your tickets to join the "HAPPENING".
参加デザイナー:
CHIEKO HORI & TATSUI MURE / CLAUDIO COLUCCI / COMBO PIANO / DESIGN AGAINST TREND PROJECT / DROOG DESIGN + DO / EL ULTIMO GRITO / EVANS AND WONG / EXIT metal work supply / FLASK / FRESH / GREEN/ARAKI MIDORI / INTENTIONALLIES / JAM / KEI TOMINAGA / KOUSUKE TSUMURA / MAKOTO ORISAKI / MASAMICHI KATAYAMA / MICHAEL MARRIOTT / mi-ri meter / NANAE HARA / NORMAL/ROSS McBRIDE / RADI DESIGNERS / SHINICHIRO ARAKAWA / SHINTARO NAGAOKA / SHIN & TOMOKO AZUMI / THE ARCHETYPE / TSUTOMU KUROKAWA / white/CASE REAL & KOICHI INOUE / YOSHIKAZU MORITAKE
SPECIAL THANKS:
Kouichirou Ishiguro(is associates),Fujita-san(hitachi),Syuhei Tamasaki,Seyama-san,oosu-kun(PIT),Haneda-kun,PaintCraft,Richard Pugh,Ryo and Miyako,Petit Gram,TRICO and HAPPENING Staff…